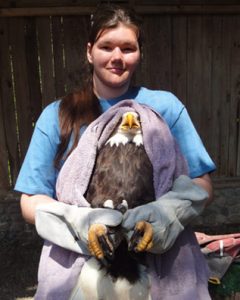 Though our focus is on vultures, Foxloft Conservancy is our branch dedicated to serving the local community through a needed role in wildlife rescue and rehabilitation.
Foxfeather Zenkova is a state and federally licensed Wildlife Rehabilitator serving southeastern Minnesota (covering Dodge county, Olmsted, Steele, and Mower, occasionally further), specializing in birds only.
If you are in southern Minnesota and need to contact us with a question or wildlife emergency, we can be reached at email: wildlife@vultureconservancy.org or 507-271-6099 (please note all calls go to voicemail but we monitor the line 9am-9pm CST). Texts are welcome.
Please understand that wildlife rehabilitation is a profession, but is solely a volunteer activity and we are not employed, paid by or supported by the state or local governments. We try to be as available and flexible as possible but cannot be on call 24/7 for intake and emergencies. I can promise that we want to help, but demand can be overwhelming. Thank you for your understanding! If you do bring us an animal, please consider donating towards its care (which can be a considerable expense), as we cover these costs ourselves. We are a 501(c)3 non-profit organization and your donations are tax-deductible.
As per state and federal law, we do not offer any tours of our facilities. It is very stressful for wildlife to be in captive care for rehabilitation and they need privacy and quiet. We do offer off-site education programs featuring birds held under education permits, separate from our rehabilitation work, please feel free to contact us about those. Thank you for your understanding!
Please do not try to feed or care for wildlife yourself. It can pose a significant danger to your health or the health of the animal you are trying to help, and is not legal. Licensed rehabilitators are NOT allowed to give out information on how to care for injured or orphaned wildlife, so if you find care information online it is often inaccurate and can do irreversible damage to an animal you care for. If you are in Minnesota and have difficulty reaching us promptly, please use the contacts below:
-If you have found an injured raptor (bird of prey like a hawk or eagle), please contact the University of Minnesota Raptor Center.
-If you have found a bird (non-raptor), or wild animal that seems orphaned, injured, or in need of help, please contact the Wildlife Rehabilitation Center of Minnesota.
You can also contact:
-Local Department of Natural Resources (DNR) officer or US Fish & Wildlife Services
-Your local sheriff's office
-Your local non-emergency police or animal control
-Other licensed rehabilitators closer to your area: https://files.dnr.state.mn.us/eco/nongame/rehabilitation/wildlife_rehabilitators.pdf